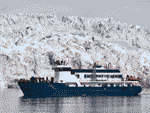 Boattrip to Barentsburg and the Esmark Glacier - Henningsen Transport & Guiding

You have chosen to book a cruise with MS Billefjord, to the destination mentioned above.
By clicking the "Book now" link below, you will be re-directed to our booking system, that will guide you through the rest of the process.

We wish you a pleasant cruise!